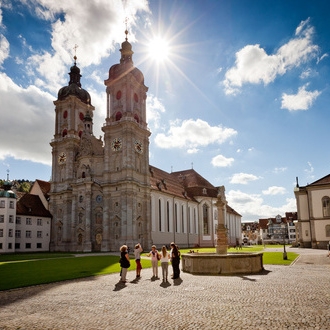 Welcome to Day away St. Gallen!
We host two DAY AWAY Seminars each year, one in March and one in September. These events are held in the Migros Restaurant, Säntispark, Abtwil, which is easily accessible to women in the St. Gallen area. Our seminar participants enjoy a sumptuous breakfast in a light and cheerful locale. We also host a Christmas Carol sing-along in December.
Directions to St. Gallen Breakfast Seminars
Migros Restaurant, Säntispark
9030 Abtwil
Please note the venue DOES have wheelchair access.
By bus: Line 3 or 4 from SG main station, stop "Säntispark"
By car: Autobahn exit 80, St. Gallen-Winkeln/Abtwil
Parking: Free parking ticket at registration!
Information on up-coming events is displayed on this website approximately 45 days prior to the event. If you would like information about DAY AWAY St. Gallen events and seminars, please contact us.
Please join us on Facebook: DAY AWAY Ostschweiz https://www.facebook.com/dayawayostschweiz.org
We look forward to welcoming you at our next DAY AWAY event!
English Bible Studies
Women's Bible Study St.Gallen
Location: Stami church
Date: every second Wednesday
Time: 19:15 – 21:15
Contact: elizabethfakhoury@yahoo.com

Women's Bible Study Weinfelden
Location: Weinfelden
Date: 1st and 3rd Tuesday
Time: 19:30 – 23:30
Contact: Mona 071 622 50 64

Women's Bible Study Rheintal
Location : Aegetenstrasse 14, 9443 Widnau
Date: every Tuesday
Time: 14:00 - 16:00
Contact: Jodi Spieldiener jodi.spieldiener@gmail.com / 00423 232 8460
Bible Study Group Buchs, SG
Location: International Bible Fellowship Buchs
Date: every Thursday morning
Time: 9:00-11:00
Please see website for directions: www.ibf-buchs.org
Contact person: Jodi Spieldiener Tel. 00423 232 8460

Alpha Live Course www.alphalive.ch
Location: Stami church www.stami.ch
Date: Tuesdays from 22 October - 10 December 2019
Time: 19:00 - 21:30
Contact: https://www.stami.ch/vertiefung/alphalive-kurs